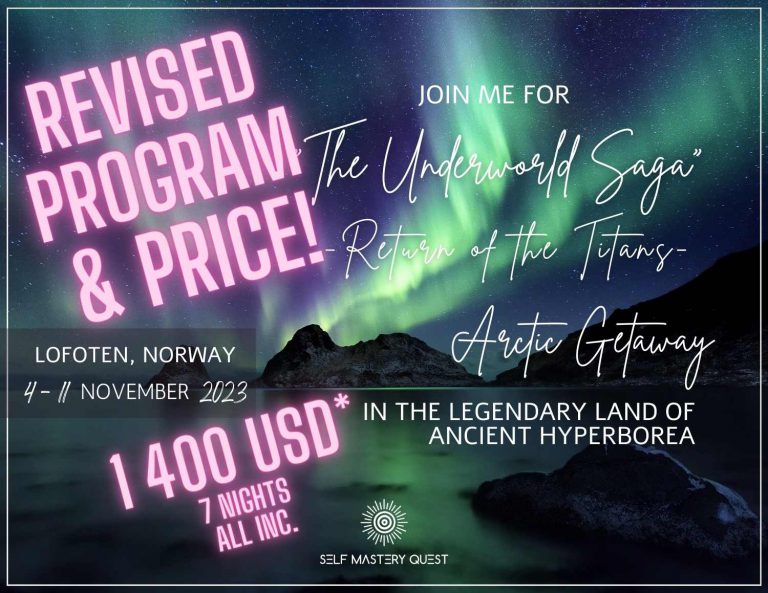 Join my New Event in the Magic Arctic - this November!
"There is no greater victory
than to fall from this world a free man..."
EXITING THE MATRIX HAS NOTHING TO DO WITH FINDING A PHYSICAL WAY OUT, OR FOLLOWING SOME MIND BASED PRACTICES. 
INSTEAD, IT IS WHAT THE  'WITCHES' OF THE OLD DAYS WERE BURNT AT THE STAKE FOR, THIS IS A SECRET ALCHEMICAL WISDOM OF ANCIENT MYSTERY SCHOOLS. WISDOM CODED IN LEGENDS, MYTHS AND ORAL TRADITIONS OF ETHNIC AND INDIGENOUS CULTURES.
 LONG SOUGHT ANSWERS OF HOW TO ESCAPE THE MATRIX MECHANISM ARE REVEALED VIA 'FEMININE ALCHEMY'… AND IT IS NOT WHAT YOU THINK…
Discover your matrix Code
I will help you free yourself from limiting patterns, repeating cycles, toxic relationships and more. You will gain clarity why certain situations, circumstances, people and problems keep reappearing in your life, how to break out of these influences and unlock your full potential.
My aim is your true spiritual liberation and empowerment.
NEWSLETTER
Stay informed about upcoming Webinars, Events, Courses and Free Content
Self Mastery and Shamanism
'SHAman' originally meant 'the one who knows'

sacred wisdom keeper, gateway to life and death mysteries. Holder of the rites of passage to the underworld and the cosmic womb.

shamans held the key to freedom
While working her extensive knowledge with our Astrology charts, Ola showed a multi-dimensional ability to connect deeply, where she brought in a clarity to the concerns presented and she taught us new perspectives, a bigger awareness to old patterns and how they can change. We highly recommend gifting a chart reading with Ola as a great gift idea for your loved ones.
I cannot even begin to find the words to express my gratitude to you for this reading today. I spent the day in my favourite way – intuitively.
It was everything I needed and more. Thank you so much.
Ola helped me see and understand so much more. Thanks to her I was able to undertake deep, wonderful inner journey. She handed me a map to my inner self. She is a truly magical and unique woman of unearthly energy.
I am truly grateful for meeting you, and for your spiritual gifts, which are out of this world. I wholeheartedly recommend Ola to everyone in a need of change and alchemy in their life.
Our Shop
Unique access to products that we like to promote