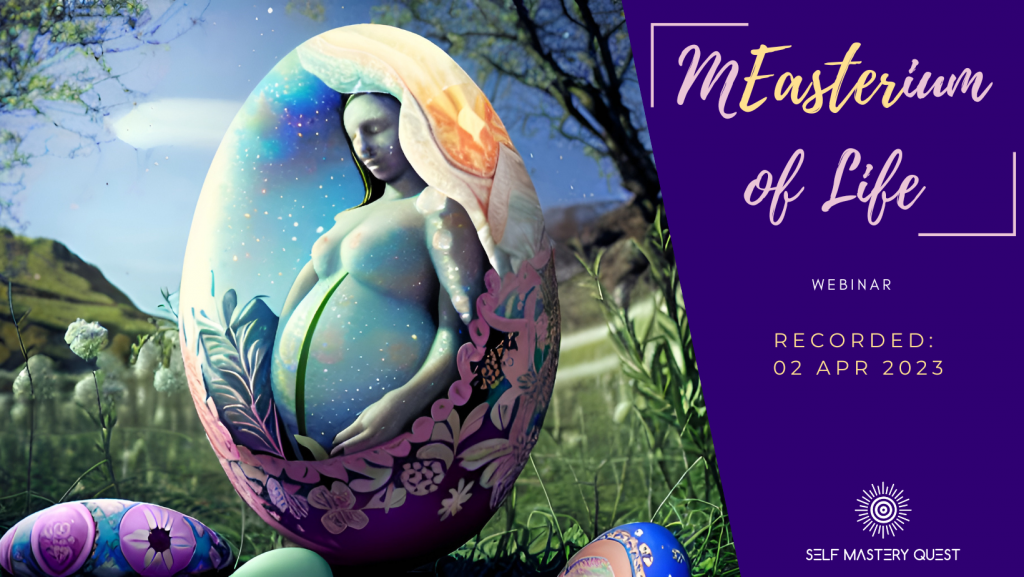 "M'Easter'ium of Life"
Alchemical Secrets of Exiting the Matrix
RECORDED: 02 April 2023
DURATION: 4 hrs 
PRICE: 111 USD
EXITING THE MATRIX HAS NOTHING TO DO WITH FINDING A PHYSICAL WAY OUT, OR FOLLOWING SOME MIND BASED PRACTICES. INSTEAD, IT IS WHAT THE WITCHES OF THE OLD DAYS WERE BURNT AT STAKES FOR, THIS IS A SECRET ALCHEMICAL WISDOM OF ANCIENT MYSTERY SCHOOLS…
THIS WEBINAR GIVES LONG SOUGHT ANSWERS OF HOW TO ESCAPE THE MATRIX MECHANISM… AND IT IS NOT WHAT YOU THINK…
Traditional Easter, in a religious context, has been turned into a mysterium of death, where unaware masses participate in a huge ritual of torture, suffering and anguish of man. But in nature, Spring is a time of rebirth and growth not pain and demise.
This webinar will focus on alchemical meaning of spring, Easter – the mystery of resurrection, egg of life and women's role in the misterium of creation.
Ancient secrets, legends and myths whisper how to reconnect with our essence and step outside of the "matrix reality" to weave our web of life, not fulfil plans of the fake gods.
Why true Easter is a Grand Misterium of Life and how humanity can resurrect?
Why this coming Easter time is so special and how it should be used to counter tyranny and unfolding agenda?
What is the deeper meaning of current world events in the cosmic scheme and a grand celestial event that took place in 2017, which even Vatican spoke about and recognized its Apocalyptic context. I will elaborate on Venus' role in this aspect.
We will dive deep into Feminine Alchemy lore and explore this wisdom in more detail, I'll share teachings that haven't been covered in my past videos. The wisdom hidden in the ancient texts, legends, folklore, mythology and practices of various native cultures reveal guidance for humanity how to disengage from the false matrix and reconnect with our alchemical power, how to counter the unfolding agenda and create a different future.
…and paradoxically this has nothing to do with protests, demonstrations, fighting, uprisings or other solution which the mind suggests.
I dive deep into Feminine Alchemy lore and guide you in details through this wisdom, sharing teachings that haven't been covered in my past videos.